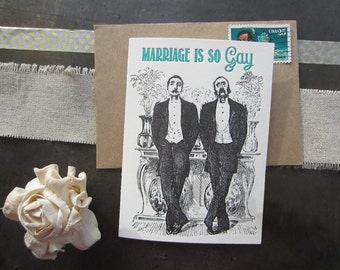 by The Urban Blabbermouth
~
The same-sex marriage people have missed a crucial point in their quest to get married. They should have looked at same-sex divorce. At some point, their marriages will fail and, just like rest rest of us, they will want a divorce.
It is really easy to get married. You just have to show up at City Hall, pay a tax for a license, say some vows and done, you are married. No one asks questions like: Do you have a job? Are you compatible? How many times have you been married? Do you have any children? Do you love this person? Incredibly, no one asks if you are gay. Guess that explains why gay people sometimes mistakenly marry the opposite sex.
Now, getting a divorce is not so easy. Questions will be asked by a judge who gets to decide if you are worthy of a divorce. The judge gets to poke around in your life just to figure out if you can divorce. Imagine that, you do not have to qualify to get married but you have to qualify to get divorced. Judge: "What do you mean you don't like each other? What kind of an excuse is that? Lots of married people don't like each other and they don't file for divorce. Go away!"
I hear that some states have no-fault divorce laws. I do not understand that. Your marriage is broken, you are getting a divorce, so somebody is at fault. Maybe your spouse has more blame than you but as Dr. Phil likes to say, "...and what did you do to contribute to this mess?" If nothing else, you picked the wrong person to marry and that is your fault.
Judges get lots of discretion to decide divorces. A favorite of judges is marriage therapy. What ridiculousness. Some Ph.D. who probably has a divorce hiding in their past to counsel you. No, a better way is to go to the experts, Indian Parents.
I hear that Indians, that is the Indians from India not the Native Americans, have arranged marriages. The bride's and the groom's parents pick your spouse and your marriage lasts forever. You know, these are the same folks who came up with the Kama Sutra, so those parents know something. The Indian Parents should open an Ashram where judges can send divorcing couples to learn about marriages.
Since a marriage begins with the groom asking the bride's father for her hand in marriage, a rather sexist business, then a divorce should begin with the bride asking the groom's mother for the groom's hand in divorce. That is certainly a very effective way of balancing the sexist scale. If the groom's mother agrees, then the judge should grant the divorce, no questions asked. [
Insert favorite mother-in-law joke here]
I have heard that divorcing couples have been known to refer to each other as "ball and chain", a prison term. Prisons use a heavy ball with a chain tied to prisoners' legs to prevent escape. Well, judges can take a hint from this statement and send the divorcing couple to prison for thirty days. After some time in a real prison, the divorcing couple may see life in their marriage in a more beautiful light.
The Supreme Court and Justice Department have handed down numerous decisions that will eventually pave the way for same-sex marriage in all states. But the Supreme Court did not say anything about divorce, did they? Typical short-sightedness of bureaucrats. So a state that does not like same sex marriage can say they don't like same sex divorces either. "We refuse to permit same-sex divorce. Eh, just give us a minute to find the right verse in The Bible somewhere."