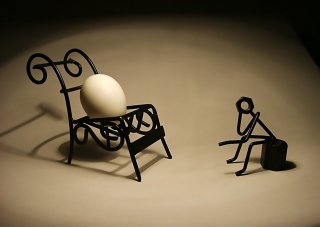 by The Urban Blabbermouth
~
I am asleep and I am dreaming. It's the beginning of Prohibition and two families start smuggling whiskey from Canada. I don't remember their names so let's call them Crime Family One and Crime Family Two, shortened to CF1 and CF2. It's dangerous but there is lots of work for everybody so the two families are happy. Prohibition ends and the two families take up other crime work. They start expanding and are fighting, hurting and killing each other.
The two crime families decide to consult a self-help author (let's call him Dr. Smith) for a solution. Dr. Smith says the solution is for CF1-Son to marry CF2-Daughter. Everyone think that this is a great idea. Problem is that the children are still children. CF1 and CF2 agree to wait twenty years and to keep out of each other's way. The two families keep expanding. CF1 goes eastward and CF2 goes westward. They fight, hurt and kill other crime families instead of each other.
Twenty years later, CF1-Son meets CF2-Daughter and they have no spark. They like each other fine but no romance. They don't want to get married. The families are in a dilemma.
Some time later, Dr. Smith shows up and invites CF1 to his son's wedding. They accept. CF1 goes to the wedding and finds that Dr. Smith's son is marrying CF2-Daughter. CF1-Son meets Dr. Smith's daughter and there are sparks. They fall in love. The CF1-Son marries Dr. Smith's daughter on the spot.
No need to interpret this dream. It's a crime romance drama mashup of Mario Puzo and Nicholas Sparks. See, I dream in novels. There is some dialogue, people faces, and scenery but that is hazy in my mind and has passed from me. I am lucky to remember this much. One day my dream will stick and I will write my first book.
Good-night and sweet dreams.