by Vol-E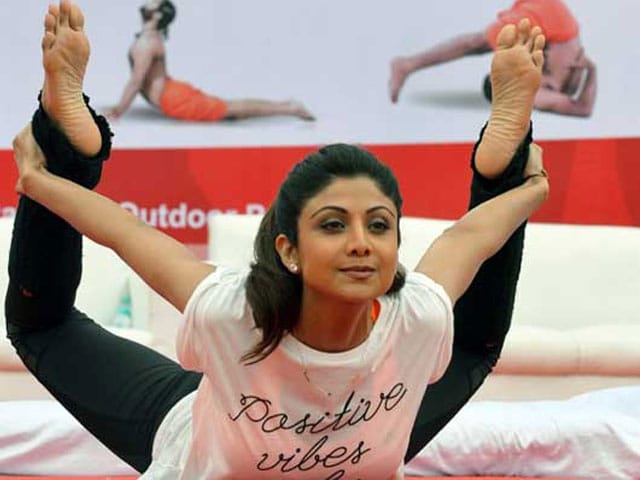 Shilpa Shetty
I started doing yoga
asanas,
or postures, back in July, and while it hasn't been an everyday practice, it's still made a huge difference for me this year.
The lady pictured above is Shilpa Shetty, known primarily as a Bollywood actress, but also deeply involved with yoga. It was her video on YouTube,
Total Body 40-minute Workout
, that helped me to actually maintain a good habit.
Most people think of "yoga" as the positions, sometimes along with breathing and meditation, but it is actually a complete life system with eight components that include right conduct and mindfulness. So out of respect, I'll specifically refer to
asanas
, since I haven't (so far) adopted most of the other parts of the path.
The following is entirely my own view of the practice, but I'm hoping this might be helpful to anyone who has shied away from it due to misconceptions.
1. Yoga asanas are nice to look at, but they are NOT designed to be a spectator sport. Having been working on this for nearly 6 months now, I am no closer to putting on a leotard and joining a class than I was back then. I cannot imagine how clunky and clumsy I look as I stretch and bend ... and I don't
want
to imagine it. How one looks makes absolutely no difference. It's about how you feel. And I ... feel ... mahvelous, as Billy Crystal often said back in the 1980s.
2. Asanas are also not a competitive practice. Our Western values are so tied up in how we stack up next to the next person. I'm especially aware of this because I apparently was born with some muscle issues that are very challenging in most athletic settings. I can't stretch or bend as well as other folks -- at the age of 5 I discovered that situps were not in my repertoire (and they're still not). But when I exclude the comparison factor from consideration, what the practice boils down to is...
I'm having a conversation with my body.
I stretch out a leg. That leg, its mate, and my back have a comment to make. It's either "Ooh, thanks, I needed that--hey, me too!" or "Whoa, lady, what have you been doing? Want to rethink that?" First thing in the morning, there's nothing like 15-30 minutes of back, stomach, sitting and standing postures to wake up your joints, bones, skin, digestion, nerves and circulation. I can do roughly 35 postures -- not all the ones in the video, but most to a degree. The routine is designed to introduce you to each part of your body, one by one and learn to respect it.
To me, this conversation is just as intimate as what you might say to your partner on a quiet morning over coffee. Neither of you is quite awake, but you know each other's rhythms and have enough respect for each other to encourage them to wake up gradually and take a positive attitude toward the day. This is in total contrast to most "public" situations, where you know little or nothing about the people around you and have no real connection to them -- so why on earth would you care what they think of you and your postures, or whether you do them as well?
My co-worker said "I'm not flexible enough to do yoga." Do enough of it and you might become more flexible over time. I'm somewhat surprised at how far back I can bend. My mom was an acrobatic dancer in her youth. She could bend all the way back and touch the ground. Me? Never, but I can see the clock on the wall behind me, and that's an accomplishment.
Some of the postures are fun and whimsical. My two felines like watching me do the Cat Pose, and they always seem impressed when my leg goes up and transforms me into the mighty Tiger. I picture someone I don't like when I assume the Warrior Pose -- don't mess with me!
You can cool it down with breathing exercises and a bit of chanting and meditation if you like.
Do it for YOU. And if you ever wondered what "Namaste" really means, it's about honoring the unique spirit of everyone you meet.
But you start with yourself.