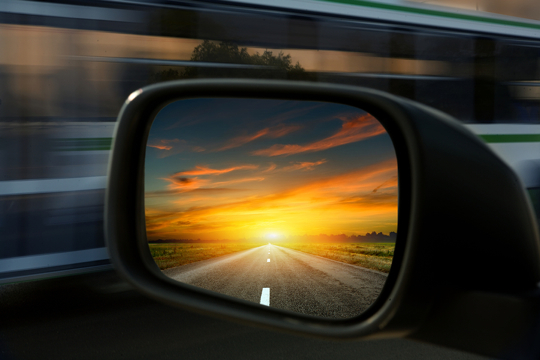 By Vol-E
I recently skimmed an article about financial and personal goals. The author said that while it is, obviously, useful to set goals, work toward them, and measure your progress, that can be discouraging when you feel you haven't gotten there as fast as you'd like to. It also has the drawback of focusing you too hard on a future that hasn't arrived yet (and may
never
arrive), to the neglect of the present and real successes that you ought to acknowledge.
The author goes on to recommend that you periodically look back 2, 5, 10, even 20 years or longer to where you were -- in which areas were you feeling a lack? What were you aiming and striving for then? How has it worked out? Better than you expected? Did you fail at achieving a goal? Or did your objective perhaps shift to something else? Did one or more goals simply peter out as you realized it wasn't what you really wanted?
I found this article encouraging. I've always been far, far more adept at looking backward than trying to plan for the future -- though once I understood that shortcoming, I set about trying to correct it. As someone who obsessively keeps up a journal, it's almost inevitable to look back and compare. I even set up a "reverse chronology" on a spreadsheet, in which I list each year and "freeze" the current date, then record my age and what significant thing was transpiring at the time. Usually it comes out to "Working for ___" and a note about family life or some memorable event.
It still astonishes me that I can look back 10 years and see that I was working for the same company I am now. A great deal has changed there, almost all for the better. I was also in the same house. Things were far different for my son -- he was still a teenager, wrestling with his future. For him, everything is drastically different from what he had in mind at the time. And nearly all of it is way better, too.
Twenty years ago, life was settling down somewhat, following a divorce, a year living in a tiny apartment with a kindergartner, a move to a spacious condo, a bout of adult chicken pox, and a wreck that totaled my car. My job was stable but not terribly joy-inspiring.
Thirty years ago was another settling-down time. In 1987, Doug and I were approaching the one-year anniversary of our move from New York to Atlanta. I was working at a new job that I'd actually campaigned to get; he was between jobs and probably far more homesick than I realized at the time. We had no kids yet. About half a year later, my basic dissatisfaction with my life would lead me to a religious lifestyle. I kept that up for 15 years, then arrived at a self-examination point, and concluded quite abruptly that I was better off as a happy heathen.
Forty years ago, I was a college freshman. With no car at my disposal, I traveled the seven miles between home and school by bus. It was about that time that I vowed to leave the icy winter cold of New York and find a home with a milder climate. I started collecting catalogs from places like Knoxville Tennessee, Tulsa Oklahoma, and Oxford Mississippi. But it was another nine years before I'd make good on that promise to myself, by which time I was married and no longer in school.
Fifty years ago, I was in third grade. And five years prior to that, I was three years old and a notorious chatterbox.
Still chattering away... nowadays, I let my fingers do the talking.