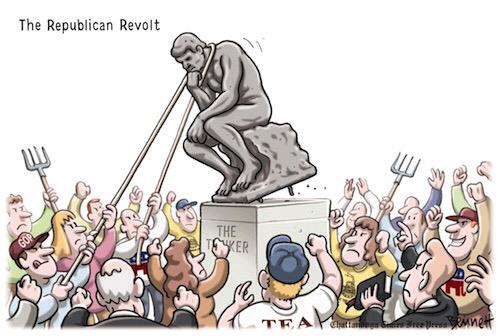 by The Urban Blabbermouth
~

Anti-intellectualism is now front and center thanks to the sentiments expressed by Donald Trump.

Many intellectuals have theorized on the causes of anti-intellectualism. First, the intellectuals are Know-It-Alls. They think that they know what is good for everybody and of course, are hardly reluctant to tell us all about it. Second, intellectuals look down and dismiss anyone who doesn't have their degrees. Third, Intellectuals have no common sense. They are so full of useless knowledge and have no idea how to live in this world.

Well, working people are not stupid. Perhaps we have not had the opportunity to develop our intelligence but that is not the same as stupid. We know how to make a living, supporting our families and our churches. We know how to be the best at our jobs and some of those jobs keep the world running. Best of all, we know how to raise good children.

Hidden behind the anti-intellectualism is a fear that knowledge is power is true. We worry that out there, somewhere in the world, is someone with more knowledge than we possess, who will use their superior knowledge to take advantage of us, of our neighbors, of our country and, eventually, enslave us. The proof is Wall Street and the bankers. They have manipulated the economy to their advantage, enriching themselves, and costing us our jobs and our homes.

Yet, despite the anti-intellectualism in the country, we make a great deal of effort to educate our children. We fight for better schools and worry about how to pay for college. We imbue our children with the belief that education is the way upward in life. We are contributing our smartest and most talented children to that elitist intellectual group of Know-It-Alls who look down their noses at us. How crazy is that?